"It is a deceptively breezy book that reveals its depths and its profound questions only slowly in the reader's mind, and one of these is how easily the powerful can sell the country a narrative. . . . A vivid examination of where we are now." ―Charles P. Pierce, Esquire
My award-winning book from The New Press, The Beginning or the End, explores the startling story of the first movie on the atomic bomb, from MGM, and how Truman and the Pentagon sabotaged it to defend the use of the new weapon against Japan and building bigger ones. Robert Oppenheimer, the so-called "Father of the Atomic Bomb" — and subject of the new Christopher Nolan epic coming on July 21— played a central role in this drama, also titled The Beginning or the End, but in a rather disgraceful and revealing way, with lessons relevant for today.
My 12th book, it was selected as one of the 21 best books of the year by Vanity Fair and one of the seven top books about film by the revered Sight & Sound. Now, with the pending release of Nolan's Oppenheimer, it is drawing new attention. To request an interview, please comment below or contact Suzanne Williams at suzanne@shrevewilliams.com.
Oppenheimer, known to friends as "Oppie," is pictured above with the actor, badly miscast, hired to portray him in the MGM disaster, on a visit to the set. Oppenheimer had just watched a scene on a sound stage and when the director yelled "Cut," he sailed his trademark hat to Hume Cronyn, yelling "Hello, Oppie!"
By then, the famed physicist had signed a release for MGM allowing them to depict him as a key character, and narrator, in its drama, even though he knew the script was very poor and, worse, contained many falsehoods. Under pressure from the Pentagon and President Truman, the movie would stand as little more than pro-bomb propaganda at a turning point in America's nuclear history. A costly and scary fifty-year arms race with the Soviets would follow.
Oppenheimer also sat for two interviews with Ayn Rand, who was writing a screenplay for a rival studio, Paramount. She would later base an important character on him in her novel Atlas Shrugged.
Contact Greg Mitchell at: epic1934@aol.com
"Greg Mitchell is the best kind of historian, a true storyteller."—Kai Bird, co-author of American Prometheus, the source book for Nolan's Oppenheimer.
"A great new book that you're going to want to read. The book conjures up a compelling cast of characters who got caught in the Cold War propaganda machine." ―Will Bunch, Philadelphia Inquirer
"A fascinating subject for this rich look at the early nuclear age. . . . While the film bombed at the box office' Mitchell's rich account of its making and larger implications should draw both history buffs and those concerned with the continuing issues around nuclear weapons." ―Publishers Weekly
My current fear is that while Oppenheimer may have some positive impact, it will (as with most major movies) portray the Hiroshima decision as "inevitable" and defensible. In fact, Oppenheimer defended it to the end of his life. This nuclear first-strike "exception"—widely embraced in America by the media and the public for over 75 years now—serves to embolden any world leader who may wish to use nuclear weapons today. We used them, and most Americans, from average citizens to top officials, still believe it was correct.
In addition, I raised concerns a few weeks back when its "R" ratings from both the U.S. and British boards did not cite strong or violent images. A French critic today suggested, approvingly, that indeed the movie steers clear of that, which makes you wonder how it portrays at least 170,000 civilians dead in the two bombings.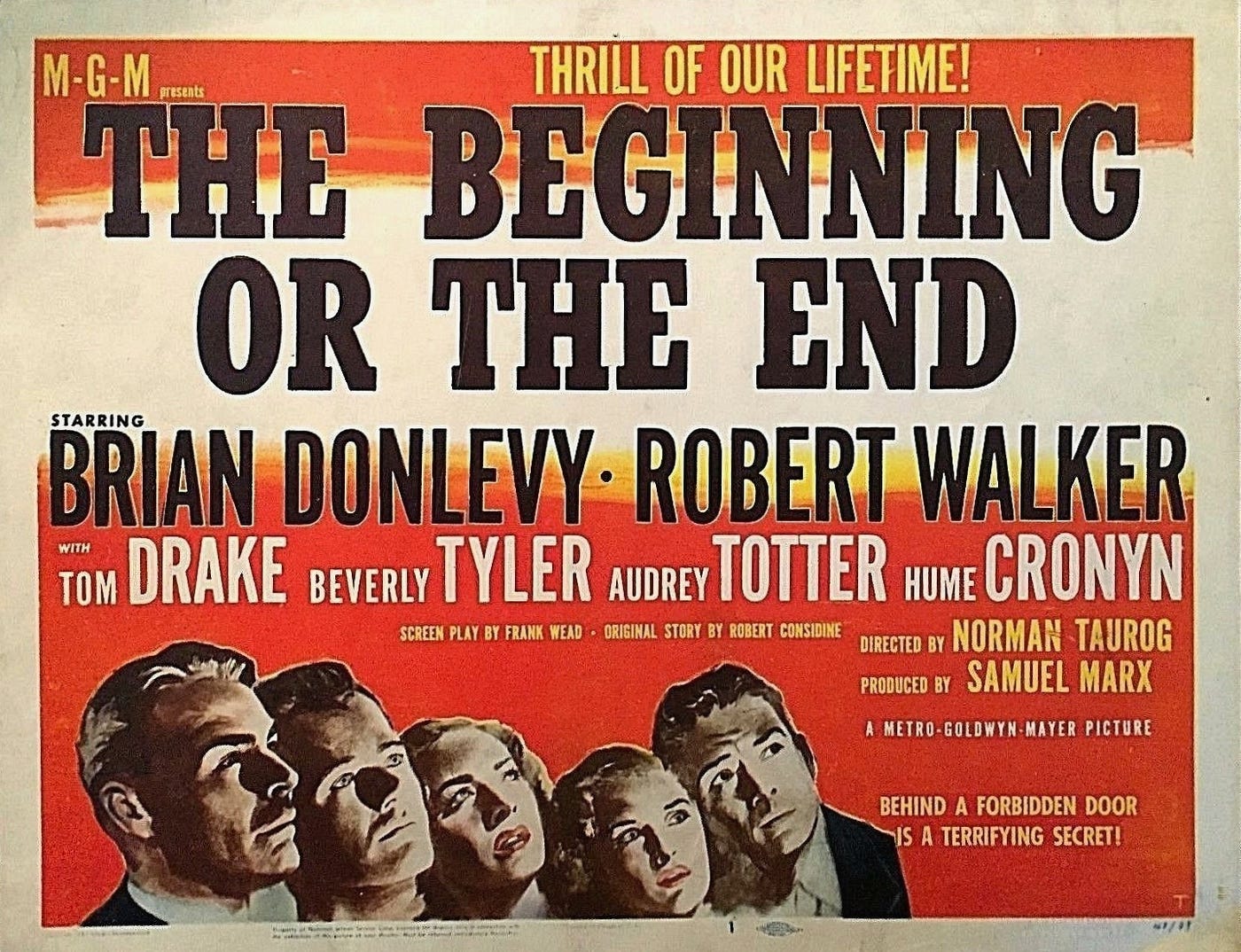 "Mitchell has done a genuine service by using the rueful history of a subpar MGM production to highlight issues of towering moral and ethical concern."
―David Sterritt, Quarterly Review of Film and Video
My book chronicles the wild first efforts of American media and culture to process the Atomic Age. A movie that began, with an odd boost from actress Donna Reed, as a cautionary tale inspired by atomic scientists aiming to warn the world against a nuclear arms race would be drained of all impact due to revisions ordered by President Truman and the military―for reasons of propaganda, politics, and petty human vanity (this was Hollywood).
It is based on hundreds of letters, FBI documents, and dozens of scripts that show how wise intentions were compromised in favor of defending the use of the bomb and the imperatives of postwar politics. Again: Oppenheimer sits at the center of it. Order here or elsewhere and see quotes from more reviews below.
***
"It can safely be said that when it comes to collisions between art and politics, art usually gets maimed and as Greg Mitchell's quietly amusing book shows, [this film] was no exception."
―The Wall Street Journal
"This is an obvious 'must buy'―especially if you are interested in WW2, cinema, or modern American history."
―Rod Lurie, director of The Outpost and other movies
"[Greg Mitchell] uses his sharp investigative reporting skills to unearth this detailed, behind-the-scenes story about Hollywood's first movie on the atomic bomb. . . . Excellent research and rich dialogue give Mitchell's book a novelistic flair as he recounts the battles between MGM and the military over actor choices, deletions, revisions, and retakes concerning fact vs. fiction"―Kirkus Reviews
"Greg Mitchell's The Beginning or the End is an engrossing, wry, and always lively look behind the scenes of a historic Hollywood flop. But it's also much more than that: a deeply serious, meticulously researched account of how the movie industry―and the American public in general―embraced a comforting myth to justify one of the most controversial decisions in history. This is a first-rate piece of work by one of our most accomplished nonfiction storytellers"
―Gary Krist, author of Empire of Sin and The Mirage Factory

"A story of dishy Hollywood doings but with atomic bombs and a screenplay by Ayn Rand―what more could a reader ask for?"
―Richard Rhodes, author of The Making of the Atomic Bomb and winner of the Pulitzer Prize and the National Book Award

"A fascinating and brilliantly researched account of how Hollywood and Washington grappled with how to portray and profit from the new nuclear age. Another great read and exposé from Mitchell. "
―Alex Kershaw, bestselling author of The Liberator and Avenue of Spies

"Scrupulously researched tale…an interesting saga that has particular relevance as we reevaluate the consequences of the bombs that dropped on Japan." —Leonard Maltin
"A fascinating, sharp-eyed study of Hiroshima's cinematic aftershocks. Mitchell expertly chronicles the gradual transformation of a gigantic, and still-radiating, moral catastrophe"
―Nicholson Baker, author of Human Smoke: The Beginnings of World War II, the End of Civilization, and Double Fold, winner of the National Book Critics Circle Award
"The defining conflict is presented with haunting clarity. Many of the long-deceased characters are presented as detailed and fully formed human beings. Perhaps the greatest honor that can be given to this book is that it is a nonfiction book that places you so deep in the action, that you forget it is a tale of the past. It all feels so real and so current. This book is a literary experience that any fan of American history should undertake with great speed, an experience that I didn't want to end."— San Francisco Book Review
"This intriguing, behind-the-scenes look at a disjointed creative partnership is sure to be of interest to readers of history and cinema"―Library Journal
"Fascinating but also, weirdly, enjoyable to read."
―Harry Shearer
"From the nation's top secret to the silver screen: Mitchell tells an unforgettable tale about a forgotten film and the tug-of-war between scientists' the White House and the Pentagon over the Hollywood version of the bombing of Hiroshima"
―Peter Biskind, best-selling author of Easy Riders, Raging Bulls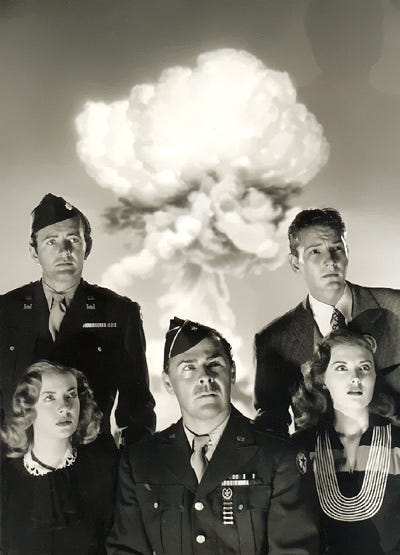 Greg Mitchell is the author of a dozen books, including the bestseller The Tunnels: Escapes Under the Berlin Wall and award-winning The Campaign of the Century: Upton Sinclair's Race for Governor of California. He has also directed three films since 2021: Atomic Cover-up, which won three awards and was selected for twenty festivals; and two films that aired over PBS, The First Attacks Ads and Memorial Day Massacre.